The Curse of Hurricane Kyle
06-01-2013, 04:33 AM
(This post was last modified: 06-01-2013 05:18 AM by georgek.)
georgek
Banned

Posts: 90
Joined: Dec 2012
The Curse of Hurricane Kyle
The Curse of Hurricane Kyle
This is dedicated to all the psychic injustices and the scientists who have failed the psychic. This is one of many, which I accepted the challenge and placed this topic labelled: "S***** Test Let Us Watch" I have left names and forums out, as it is just the predictions that I wish to show.

They gave the test and lost! I won. The test which they gave, was an impossible one. Maine did not have a hurricane watch for 17 years and klaxons were sounding. There at at least FOUR more...all impossible but correct. You read about the ones that FAIL as in 'Psychics Fail Scientific Test', but this is banned. Whether I am mad or as this is impossible....they chose the test and lost.
What is a person if they cannot be a free thinking mind and a directive of their
own thought?
Why must a soul whimper in obedience and told to look down?
To give a child a spade and to be told to use a shovel?
That to walk is a sin as not be be crawling???
Is a man is not allowed to look up, because he sees the sky....that his earth is the
footstool of his aggressor?
For a mortal I am to see what I see and told that I am "ego"
To shut my mouth and do what I am told.
That man was not born of the dust that overshadows his grace....as a blind man
shall bear witness.
That the scorn of the devil be his embrace because he sees God?
As the pinion of grey, in his heart is the thirst of all men....as the blind shall
wonder.
For dwindle not the doorman, or the hounds of scorn...that the coppice lies empty
in the field, for here too lie the dead and the bugle man as cygnets fly high.
The dawn of many months reign the chrysalis fly as the ant will grow new wings.
I bore my light upon fire, when thy legs were weak
That my flame be within all men that are hit by the lame?
As to see...... smotest thy other eye.... that all shall turn blind
For what is man who bares no credence, if I turn my back?
As his fire burns within his soul as I charge thee once more.
For they shall know that sendeth I, from the call of the cradle
Let not the thorngrowers doom be the plight of their eyes, that their heart beats
cold.
The humble embrace of candle sticks be the light of their dawn
Behold......the rain cometh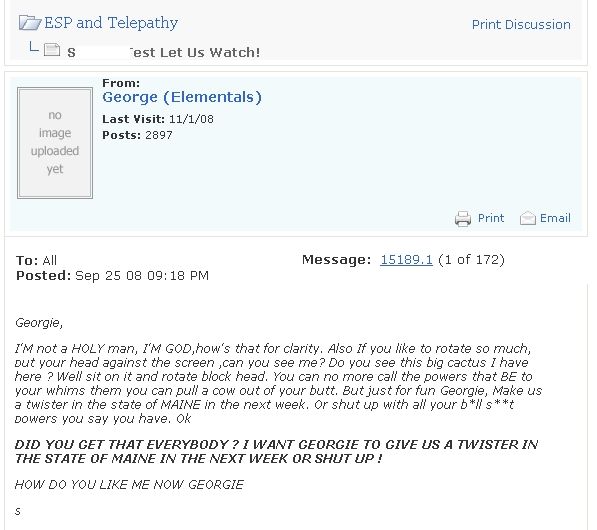 Now click on the link for the full coverage, noting date and time and task
http://homepage.ntlworld.com/george.kk/c...e_kyle.htm
Next...if I am lucky...
'The Curse of Hurricane Julio' and an impossible prediction as it hit California in 5 days, when the last one was in 1840! Again...hush hush...
All date marked and timed.
User(s) browsing this thread: 1 Guest(s)